Household Essentials Boot Shapers Were $8.40 | Now $5.99 (FS @ $25) @ Amazon (EXPIRED)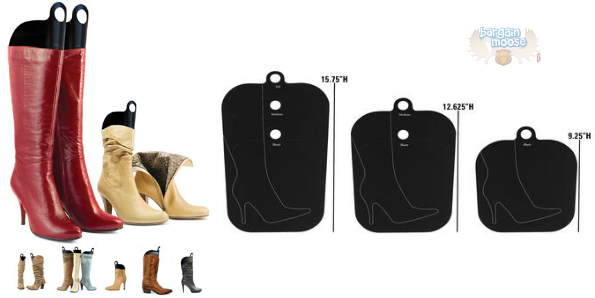 Today only at Amazon, pick up a pair of boot shapers by Household Essentials on sale from $8.39 down to $5.99 for two-pairs.
This is a lightning deal with 41% already claimed. If you want a set of these, then I suggest placing your order soon!
I have been looking for an affordable option to keep my boots in good condition and I just found it! These Household Essentials boot shapers are perfect for any size of boot from bootie up to knee high. Each sheet has three options, as you can see from the diagram above. Once trimmed, shaped, and inserted, they unroll to imitate the natural boot form. This will keep your boots both looking and feeling better longer. It will also stave off collapsed ankles by preventing the top folding from over when not in use.
I would keep both my boot shapers long as I have two pair of knee high boots that need help staying shaped. Currently I use broken off coat hangers (seriously) to keep my boots upright. This helps with the ankles but does nothing for the natural shape of my boots.
This offer gives you two sets of these sheets, which are good for two pairs of boots. I actually own exactly two pairs of black leather knee-high boots that need proper shaping. One is a lace-up pair of boots from Fluevog that are my pride and joy and another is a pair of zip-ups that receive the brunt of my use: the heel has been replaced many times. In the future, if I need to use the shapers on a shorter pair of boots, I can always customize them.
There are some additional cool features to these shapers. The tall and medium height shapers have holes on top so you can actually hang your boots up if you want - using the shaper. This is a great way to keep your boots off the floor and out from under foot. It can also keep dogs from chewing on them. The shapers also give your boots better air circulation to help sweat dry and keep from smelling up your boots.
These shapers retail for $9.72 @ Household Essentials and $6.41 USD @ Walmart.com (US).
Receive free shipping on $25 or more.
(Expiry: 30th June 2015)