Teambuy Canada: $9 For 3 American Apparel Scrunchies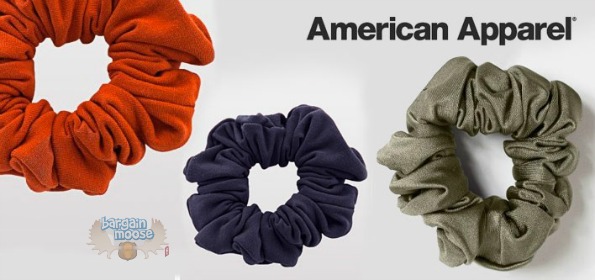 Teambuy Canada has tickets for 3 scrunchies from American Apparel for $9, a $21 value. You may purchase 1 for yourself and up to 3 as gifts. These tickets are valid at Canadian retail locations or at store.americanapparel.ca. Choose the option of in-store or online redemption at checkout. Tax and shipping are not included and tickets will expire on December 31st 2012.
Wow, there are a lot of scrunchies to choose from, like these Nylon Tricot Scrunchies that are regularly priced at $7 each. There are 29 colours available, my favorites being the Burnt Olive and Dark copper. You can order them in 2 inch or 3 inches sizes, but not all colours are available in each size.
Here's a nice Denim Cotton Scrunchie that is also $7 regular price. They are available in Dark wash indigo, light wash indigo or medium stone-wash indigo. I'm not a huge fan of blue, but the dark wash looks nice.
Ooh, Shiny scrunchies that are also $7 regular price. There are 12 colours available and it's hard to choose since they're all quite stunning.
Here's my favorite, the Velvet Scrunchies that are also $7, with 7 colours to choose from. I personally love the wine and the fern colours, but the woodsmoke is quite nice as well.
They also have Chiffon Scrunchies with 3 colours and Cotton Scrunchies with 26 colours available and some interesting prints.
I know we can all go to the local dollar store and get these cheaper, but I have done that and you get what you pay for. I think I would rather have these very lovely quality scrunchies, so I don't have to continually replace them.
Shipping: Free for orders of $75 or more, otherwise $8 flat.
(Expiry: 6th November 2012)