Check out this cool Crystal Skull Shot Glass, now $5.36 shipped @ Amazon.ca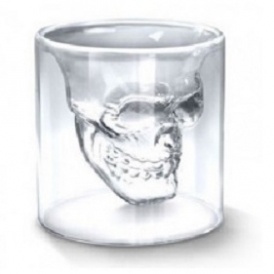 Before Christmas, I had purchased two of these shot glasses as Christmas gifts. Both my father and brother thoroughly enjoy them, so I had to share this deal when I saw it. Amazon.ca currently has the Doomed Crystal Skull Shot Glass by Fred & Friends on sale for $5.36 including the shipping cost. These cups were regularly $12.50.
This glass is pretty awesome - I bet you have seen it show up in your Facebook news feed before and now you can have it in your very own hands. It definitely has a unique touch and your dad or husband will enjoy sipping his scotch or whiskey from it. It will also make a fabulous conversation piece, or you can keep it for yourself.
So far this particular glass has received 51 customer reviews on Amazon.ca, leaving it with a 4 star rating. That's not far off 5 stars, so people must really enjoy this glass. Fill the glass with rum or Coca Cola and the skull will become apparent. The glass will hold 75 ml, which is quite an amount considering the average shot is about 30 ml depending on where you are ordering from.
Once you find this glass, you may find yourself looking for excuses to drink out of it. This particular cup is made by the brand DOOMED, which has excellent ratings and reviews. The only downfall I could find is that the cup is quite delicate, so just be careful not to drop it off your kitchen table after you have enjoyed it with your rum or whiskey a few times.
(Expiry: unknown)