Boy Meets World Series Collection On DVD Was $100 | Now $27.49 & Free Shipping @ Amazon.ca (Expired)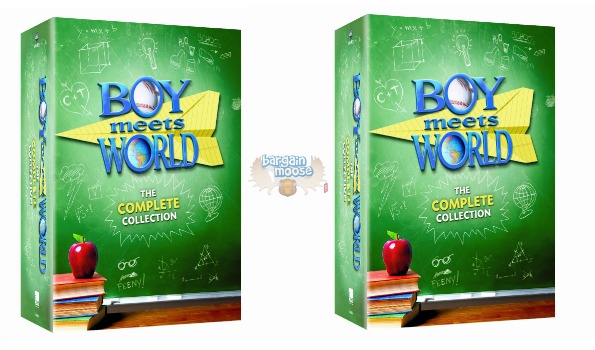 Check out the complete series of Boy Meets World on DVD. You get all seven seasons of this hilarious and cheesy show. This series was $100 but is now only $27.49. It qualifies for Amazon's free shipping with a minimum purchase of $25.
Amazon is stocking us up with some of my favourite sitcom shows from the 90s this week. Yesterday Margarita blogged about Sabrina The Teenage Witch being on sale. It was not long ago that Anna posted about Saved By The Bell being on sale. It is time to dig out a flannel shirt and some Doc Martens for a 90s series marathon. I think we only need a good quality does of Sister Sister and Home Improvement to complete a 90s sitcom marathon.
I really loved this series. It was another one of those guilty pleasure shows, and I would watch the syndicated reruns repeatedly. I wanted to be Topanga once she grew out of the earth mother stage and became a little cooler. I cheered on Cory and Sean as they goofed around and learned a lesson or three in Mr. Feeny's classroom. I loved the cheesy jokes, the love story between Topanga and Cory and the rebellious friend Sean with just a little bit of an edge. Boy Meets World Is a classic nineties sitcom with the right balance of cheese, lessons to be learned and loveable characters. The seven seasons of this show takes us from middle school all the way through college with our favourite characters as we cheer them on to make good choices and navigate growing up.
Did you wonder what happened to these characters after college? Disney recently created a spinoff series, Girl Meets World. Once you have finished all of the classic episodes in this box, the new series is worth checking out. Cory and Topanga are married now with a quirky daughter and an edgy friend. Girl Meets World does hold true to the essence of the original show. The new show has plenty of cameos and nods to the original series. Check out a little more about the buzz surrounding both the old and the new shows in this article from Entertainment Weekly. You can re-watch the original series with your partner or kids, and then have a few extra laughs at the new series.
Walmart has this series for the low price of $70. This series is also on sale right now at Chapters for $70. You could buy seasons one through five only at Staples for $17.81 a piece, but you would still be missing two seasons and would pay $89.50. I noticed Best Buy and Future Shop both retailed the complete series at around $75 but, neither had it in stock.
You do not have to take my word for it. There is plenty of love for this series on Amazon.
It definitely brought back my childhood. I used to love this show and when I saw that amazon had it on sale I knew that I had to buy it. And still to this day, this show does not disappoint!
Grab it at Amazon while it is a steal. My husband was even eying this deal over my shoulder as I typed this out. I do not think the stock will last long.
To get you ready, here is a great funny clip from the show.
Bargainmoosers, what is your favourite nineties sitcom?
(Expiry: Unknown)