Boston Pizza Canada: Buy An eGift Card And Get 20% As Another Free eGift Card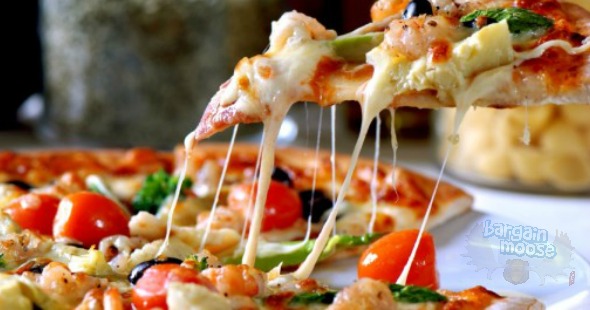 They always say that a way to a man's heart is through his stomach, which means gift him with food. This Fathers Day, why not get Dad a Boston Pizza gift card and receive a gift yourself as well? Until the 21st of June, you can receive a 20% bonus when you buy an e-gift card from Boston Pizza Canada.
My Dad and I used to always go to Boston Pizza to spend some quality time together. So if I gave him a Boston Pizza eGift Card as a Fathers Day gift, it would have sentimental value as well. Not only that, but I would receive a 20% bonus in the form of an e-gift card for myself. The 20% bonus amount is received as a separate E-Gift card. That means if I gave Dad a $200 gift certificate, I would get a $40 gift certificate as well. This is like free money to use at Boston Pizza! There is a minimum spend of $25 required, but honestly $25 can go a long way at Boston Pizza.
I actually have a step-dad to get a gift for this Fathers Day as well, so I might gift him with one of the Boston Pizza eGift Cards. After all, great gifts are edible. There is no coupon code required for this offer, just add the Boston Pizza eGift Card to your shopping cart and check out. You will automatically receive your bonus. While this offer is only valid through June 21st, I don't think the gift vouchers themselves will have an expiry date. You can use the entire gift card in one sitting, or split it up between multiple visits to your local Boston Pizza Canada restaurant if you wish. I really suggest you try their Hawaiian pizza, it is one thing that I could never turn down no matter what diet I was trying.
Boston Pizza Canada actually has quite an extensive menu beyond the obvious choice of pizza. Boston Pizza has many delicious favourites like wings, ribs, steak, and even their famous and irresistible Cactus Cut Potatoes (beware, these are a little spicy). You can take a look at the prices of their food right in their online menu, so no surprises when you get to the restaurant.
Be honest Moosers, did you snag this as a gift or keep it for yourself?
(Expiry: 21st June 2015)