BBC Movies & TV BOGO Free @ Amazon Canada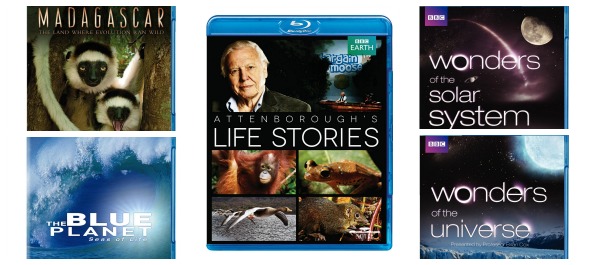 I think I just had a heart attack. Amazon Canada has an incredible promotion on BBC series right now. Buy One, Get One Free on a plethora of BBC television series' and movies.
I have never seen a promotion quite like this before from such a major content producer. The BCC produces some of the greatest content on this planet, including the legendary Planet Earth series, Dr. Who, and more.
This is a limited time offer; I do not know when it expires. The lowest priced items will be discounted to free with a maximum of three free items per order. As a massive fan of the BBC Nature documentaries, I immediately looked for the titles missing from my collection.
Earthflight: The Complete Series (BD) [Blu-ray] is a recent release by BBC Nature that follows the migratory path of birds. This Blu-ray set is on sale for the lowest price it has ever been on Amazon as well! Originally $49.98, Earthflight is now only $19.96. I would pair this DVD up with something similarly priced so I get the best discount.
I have long admired the Wonders of the Universe [Blu-ray] disk set. I was really into stars as a child, and that is the one thing that all my other BBC Earth sets do not really talk much about. That is no surprise as the theme of BBC Earth is 'Earth' and getting to know your planet. However, I want to learn about beyond my planet. Wonders of the Universe was $30.98 and is now $22.93.
There are three sets of 'Wonders' documentaries, each with a slightly different theme. Amazon Canada has two of the three, so I would also purchase Wonders of the Solar System [Blu-ray], which is on sale from $43.98 down to $33.45. If I purchased both of the Wonders Blu-Ray sets, I would only pay for the Solar System one and get the Universe for free.
I am overwhelmed by my choices! I have long wanted to purchase Madagascar [Blu-ray] as it is one incredible place. That Blu-ray set was $43.98 and is now $32.83. I could combine that with Earthflight above to receive Earthflight free.
There are over 600 titles included in this offer - so there is literally something for everyone. Even if you are not a BBC Nature freak like me, there are plenty of thrillers, drama, comedy, sci-fi, and more titles for you to choose from in the offer.
(Expiry: Unknown)