Bargainmoose Contest: Win a $250 eBay Gift Card (EXPIRED)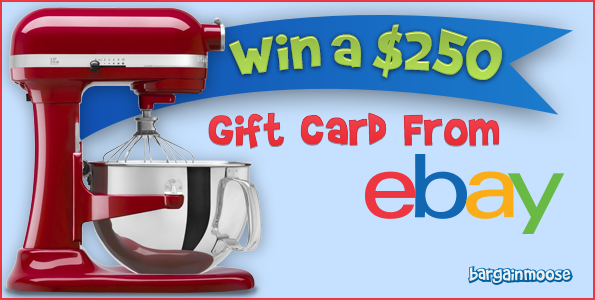 *** Contest now closed, winner was Moose Jolene! ***
Do you like spending money on eBay? How about $250? All you have to do is enter our contest for your chance to win a $250 gift card to spend on anything you want over at eBay.
I love shopping at eBay as they really have everything and they have some really kick-butt deals. For example, they just started their Deal Frenzy, which has deals on for as much as 70% off and are all featured items from trusted sellers. The trusted sellers part gets me the best as you really don't want to buy anything from someone who can't be trusted, especially refurbs or electronics. These deals end on September 20th and of particular note, I am very interested in this KitchenAid heavy duty pro 500 stand mixer. For $249.99 U.S. (about $276.80 CDN), this is truly a steal. There are some shipping and import charges you should be aware of when you buy though. There are deals that ship from Canada as well.
If that amount of shipping throws you off, you could check out the free shipping deals that are also up to 60% off. I personally try to only shop with free shipping, so this is a much better option for me. This mini portable HD LED projector is something I'd love to have for my family room. It ships free and comes to $71.97, which is a nice price!
Brand Vault is pretty cool if you like shopping directly by brand rather than random searching on the site. For example, you can shop directly from NewEgg on eBay for almost anything in electronics.
How to win this prize?
Comment below on the following question(s):
What was your best ever eBay find? If you've never shopped at eBay, what is your dream find?
Get bonus contest entries!
Rules:
Canadian entrants only
One entry per household
Ends 22nd September 2014
Rules subject to change at admin's discretion