Artscow Coupon Code: Cosmetic Bag Only 99¢ & Free Shipping ($20 Value)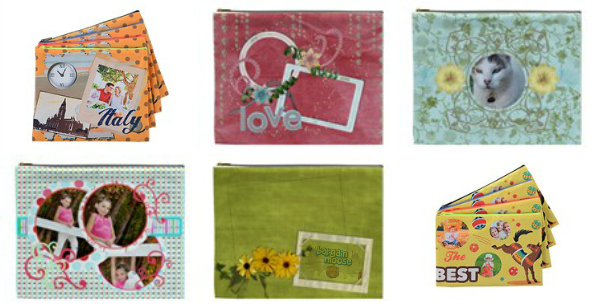 This is the third in a trio of excellent Artscow deals. The first was 99¢ for a mouse pad, the second was 99¢ for a t-shirt, and the third is a Personalized Cosmetic Bag for only 99¢ with free shipping. All prices are in USD.
Click here to personalize your own cosmetic bag @ Artscow now
Coupon Code: ZP3TMTEER
Discount: bag only 99¢ and free shipping
Expiry: 23rd June 2015
The personalized cosmetic bags retail for up to $13.99 (extra-large). As shipping costs $5.99 before coupon, the total retail value of this deal is $20.

You can see the cosmetic bag is appropriately discounted in my cart. While I do not need a cosmetic bag, I may design one for my mother and send it to her. It will be another little 'surprise' Mother's Day gift that will just arrive in the mail unannounced.
There are smaller bags you can choose from as well. However, I picked the biggest because it would be the most versatile pouch in my opinion. The extra-large cosmetic pouch measures 10" wide by 8" tall. It is made of 600 d polyester fabric and has a zipper closure at the top. You even get to choose what colour of zipper you want:
Black
Blue
Lime
Neon Orange
Pink
Maroon
White
There is also an internal zipper on a pocket inside the cosmetic bag. This is great for keeping certain cosmetics separate from each other. If you have travel makeup brushes, the internal pocket would be a good place to store them and keep them safe just in case one of your cosmetics leaks. I have had shampoo and body wash all over the inside of my travel cosmetics bag before. It is not fun to clean up. However, it is even worse if it soaks into the wooden handles of your cosmetic brushes.
The bag can be personalized with a picture on the front and a picture on the back. Those can be different pictures or the same picture for a sense of symmetry. The pictures have to be pretty good quality to show up well on the bag - so choose your best and make sure they are large enough.
I really like these 99¢ deals from Artscow and I hope they come out with more of them in the future.
For this and other Artscow coupon codes, visit our forum.