Amazon Canada: Victorinox Swiss Army Camping Set Only $22.67 (FS @ $25)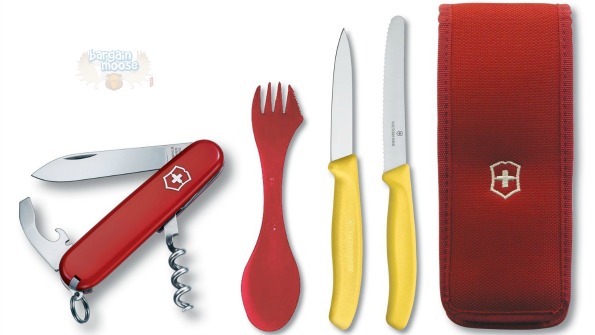 Amazon Canada has discounted the Victorinox Swiss Army Camping Set to $22.67. While I am not sure how accurate Amazon's original price was, this set is around 50% off what other retailers sell it for online. Receive free shipping on orders of $25 or more.
I modified the usual link to the listing, as Amazon Canada's deal on the knife was not showing up first. That is because another seller is offering immediate shipment whereas Amazon Canada forecasts a two to five week delay in shipping. However, at this price it is certainly worth the wait.
I price compared this set with the few other places I could find it. That other Marketplace seller is selling the Victorinox Swiss Army Camping Set for $40.65 with free shipping. At Altitude Sports, the camping set retails for $44.99. I even price compared with eBay, where the cheapest set would cost $34.60 USD = $42 CDN. Essentially, everywhere else I looked for this set is selling it for $40+.
Now that we have established that this is, indeed, a very good deal - let us talk about what you get. The Victorinox Swiss Army Camping Set includes five pieces:
Waiter knife
Stainless steel utility knife
Stainless steel paring knife
Fork / Spoon Combo
Case
The waiter knife includes a large blade, can opener, bottle opener, and cap lifter. In this knife is everything you need for a party: a way to get into the wine and a way to get into that gorgeous microbrewery beer that you drink. A can opener helps open snacks, and the knife can be used to cut them into bite-size snacks. I use my knife to cut cheese all the time.
In all seriousness, this is a fantastic little kit for the backpacker, camper, outdoorsman, and partier alike. I could even see sticking this into my car's emergency kit. Knives are extremely useful things and you never know when you will need one. Just a couple days ago I was trying to open a package of pepperoni (as a snack when out) and had to use my keys to open it as I was not carrying a knife.
Enjoy Victorinox's legendary quality and lifetime guarantee! My father owns several Swiss Army knives and they have never let him down.
(Expiry: Unknown)