Amazon Canada: The Complete Beverly Hills 90210 Only $110 & Free Shipping (EXPIRED)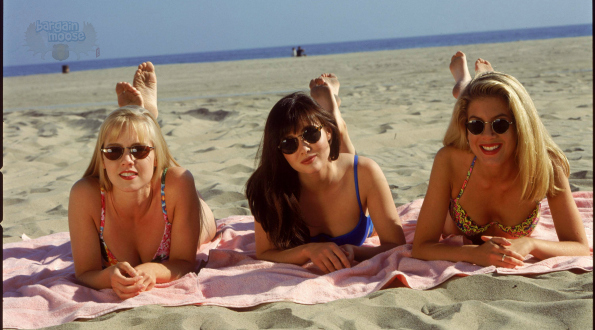 Today's one-day deal on Amazon Canada is Beverly Hills 90210: The Complete Series. While Amazon Canada has the original price at $389.99, the going rate is more in the mid-$200 range. However, today you can pick up the series for only $109.99 with free shipping.
Walmart Canada sells the exact same collection for $257.97. I also compared individual seasons to the price of the box set: there is not even a contest. Individual seasons start around $20 and go up to $65 depending upon the season (at Amazon). Even at Walmart, individual seasons start at $15 and go up to $50 each. Currently, the same box set costs $224.60 USD at Amazon.com. Walmart.com also sells this box set for $224.59.
I was sort of on the tail end of this series when I was younger. I watched it whenever my parents weren't home as they 'disproved' of such teenage drama. I thought Brandon was yummy, and Brenda was gorgeous. I think it was the first time in my life that I wanted dark hair. I liked the dynamic of the show and how it touched on some more series issues at times. I think those are the episodes I remember the most. This box set includes all 10 seasons of the show.
One reviewer on Walmart.com said:
It's Beverly Hills 90210 you can't go wrong. I'm so glad i have this tv show it was one of my obsessions back in the day could not miss any episode!!!!!
I have to agree, you really cannot go wrong with this series. While the styles may be a bit outdated (and the technology), many of the issues are the same today as they were back then. It is also a fantastic trip down memory lane for those who grew up during the 1990s.
While on Amazon.ca, I found a great deal on this Samuel Goldwyn Collection of six movies. Originally $59.99, this collection is on sale for $19.99 now. This is the cheapest that this collection has ever been. The collection includes six renowned movies: The Bishop's Wife, The Best Years of Our Life, The Pride of the Yankees, Wuthering Heights, Hans Christian Anderson, Guys and Dolls. I have seen Guys and Dolls... it is an incredible movie.
Receive free shipping on orders of $25 or more.
(Expiry: 6th June 2015)