Amazon Canada: Subscribe & Save 15%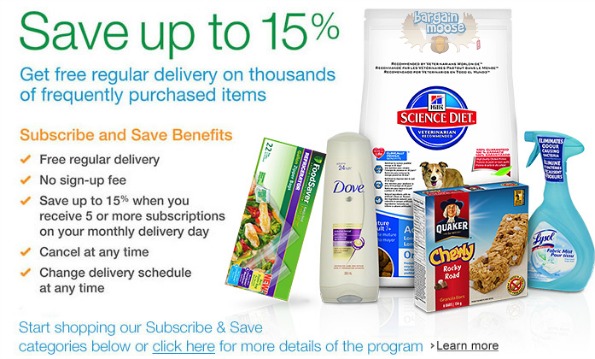 Amazon has a great new service called Subscribe & Save and we want to be the first to tell you about it. Basically, if you subscribe to receiving products you use on a regular basis, you'll get 15% off those products and free shipping!
With every product from health, beauty, pet supplies, home and kitchen and more, if there is something you regularly stock up on, you might as well get it shipped to your house on a regular basis for free! Those "oops I forgot" moments after getting home from the store will disappear with this service. In fact, I think this is a great service for seniors who might have a hard time getting out, especially in the bad weather, and who need certain products. Never mind seniors though, I forget important items at the store on every trip, so it would also be good for frazzled mothers with toddlers.
There is no sign-up fee for this service and you can cancel at any time, which is great, because if you find a product you like better or don't find the service working for you, you don't have to wait out a subscription. This means there really is no risk for you at all, only benefits. You can also tailor and change the delivery schedule to what you need, so you don't live on someone else's idea of when you need a product.
You'll get 15% off once you have five or more subscriptions that come on the same delivery day. Your items will only be charged once it has shipped so there is no paying ahead a year either. It is like you took the time to go online and order your item each time, except that you didn't. And you saved money and shipping costs.
You'll receive email reminders before your product is set to ship, just in case you forgot that you didn't want that product, or don't need it right at this time.
For example, garbage bags are something you undoubtedly go through on a regular basis. There is nothing worse than finding out there are no garbage bags on garbage day. Been there, gotten angry about that. I could order these Glad Easy-Tie regular outdoor garbage bags, with delivery every month, two months, three months or more, depending on what I normally go through. It looks like I'll get 5% off the bags ordering just them, but if I look hard enough I know I could find other items that would be so beneficial being delivered on schedule to get my 15% off.
(Expiry: Unknown)