Amazon Canada: Step2 Naturally Playful Sandbox Was $112 | Now $59 (EXPIRED)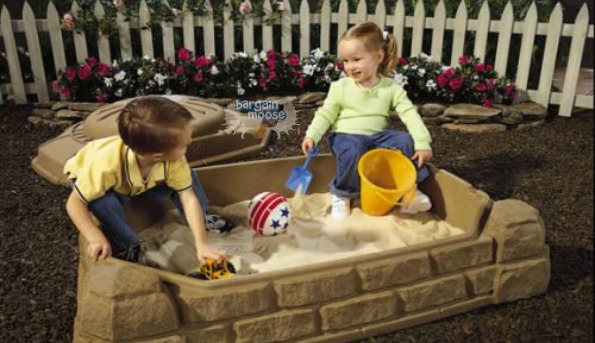 Spring has sprung! Ok, it hasn't, but in a few days the local groundhog will tell us whether we'll be suffering through six more weeks of winter or not. Be prepared ahead of that pesky groundhog and get your yard ready for spring. Amazon has the Step2 Naturally Playful sandbox on sale for $59.12, from a regular price of $111.99.
If you have little kids, a sandbox in their backyard is a dream. I know, because I've had a few. When my older kids were toddlers, we had something just like this, which was perfect for them to play in for hours. I could put the lid on at the end of the play session, to ensure local cats weren't making it a litter box and to keep out water. I eventually moved to a house that had a built-in sandbox and sold the old sandbox for a good price at a garage sale. These things keep their value.
This one from Step2 holds up to 200lbs of sand and has a natural look that won't clutter up your landscaped yard. It even has little molded seats for the kids who don't like to get right in there and get dirty. My kids liked getting dirty, so they sat right in the sandbox.
It has great reviews on Amazon, all the moms and kids love it:
Thoroughly researched sandboxes for my 2-year old and this one came out on top, not disappointed. Large enough for him to play in, small enough to fit on our deck... The lid is designed to shed water (other sandboxes with flat lids will collect/pool water), we've had a few summer storms and no water has gotten in and soaked the sand.
I of course price compared on other sites and Amazon's price came out on top. Walmart has a similar, although not as nice looking, sand box on for $69.93, which is the second lowest price I found it for. Amazon's price is $10 cheaper. Sears has the same one as Amazon selling for $99.99.
Amazon will also ship this sandbox to you for free as well, so that's a nice bonus to get you ready for the warmer weather ahead. If sand isn't your thing, I've also seen it where parents have filled it up with other sensory items - rice for example - and kept it in their basement playroom.
(Expiry: Unknown)