Amazon Canada: Sons of Anarchy Was $200 | Now $140 & Free Shipping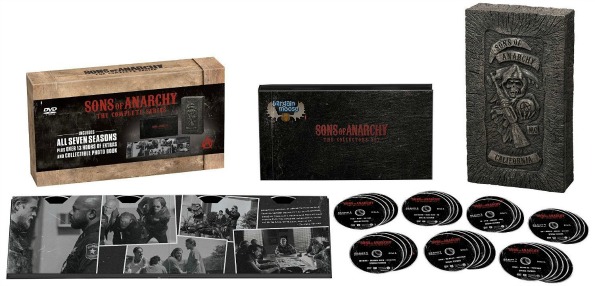 Aching for a Jax fix? With my favourite show completely over (Sons of Anarchy) and my other favourite show done for the season (Shameless), I need something to tide me over for a while. I could really get into the complete series of Sons of Anarchy and Amazon has a great deal for me. Get Sons of Anarchy: The Complete Series giftset for only $139.99, with a regular price of $199.98. Because it is over $25, free shipping comes along with it.
This giftset would also make a great Father's Day gift for a lover of the show or for someone who has never seen the show and definitely should. I have to say, I was very disappointed in how it all ended, although I am in the minority with that statement.
I could not really find any details anywhere about what exactly this set contains. I do see that it has 23 discs on DVD with seasons 1 - 7 of the show. On top of that it looks like it has a very cool wood box to keep this collection. Then it has what looks like a replica of the gang's table with the Sons etched design. On top of that, there is a photobook, which will help you relive your days with Sam Crow.
Reading the reviews on Amazon.com, they say that a real fan will absolutely love and need this set. There are only two reviews on Amazon.ca, but both give it a 5-star rating, citing that its a great set to have.
This is definitely the cheapest you will find set, if you even find it elsewhere. Best Buy was selling it for $184.99, but it is completely sold out. If you wanted just the discs, each season sells for about $25 - $35 a season, bringing your total to a minimum of $175, without all the extras.
(Expiry: Unknown)