Amazon Canada: Pre-Order Downton Abbey Seasons 1,2,3 & 4 Set - $57 (Save $48)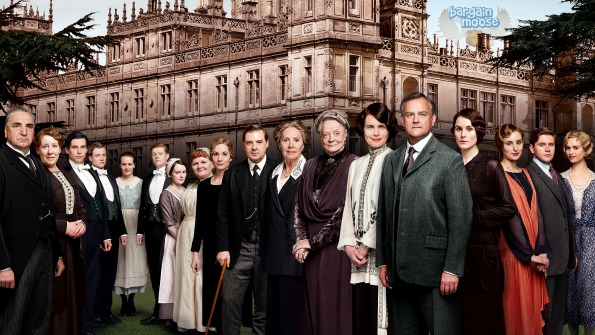 Save a boatload of money at Amazon Canada when you pre-order the boxed set of Masterpiece: Downton Abbey Seasons 1, 2, 3 & 4, which is scheduled to be released in late October. The box set is priced at $104.99, but Amazon.ca is accepting pre-orders right now for just $56.99 for all four seasons.
This is a pre-order for the release on the 21st of October 2014. When you pre-order, that means you lock in your maximum price at that amount. No matter what price adjustments occur to the product, you will never pay more than what you pre-ordered the set for. However, pre-ordering does mean you can pay less. If you pre-order and the set is released for less than you paid, Amazon Canada will refund the difference. You will only pay the lowest amount.
I could not find this set on pre-order many places, but Chapters Canada does have it for $73.49. I tried HMV, but there was nothing there. This is for the DVD version, not for the Blu-ray.
The Blu-ray version is also an excellent deal and worth getting if you are converting all your DVDs over to Blu-ray like we are. Pick up Masterpiece: Downton Abbey Seasons 1,2,3 & 4 [Blu-ray] for just $64.99, originally $115.99. Again, I price compared with Chapters Indigo who has the Blu-ray set listed for $81.19.
I have never seen the series, so I really cannot advise you for or against it due to content. However, it does have one of my favourite actors in it: Maggie Smith. I have seen this woman in several films and she is quite brilliant (and I am not just talking Harry Potter). The first movie I ever saw her in is The Secret Garden.
Oddly enough there is one review, maybe from some person who received an early copy. The review starts as follows:
A new series of Downton is an annual treat, and as usual this year it is followed by the DVD compendium. This includes the 34 episodes to date. There are seven episodes from the first series, eight each from the second, third and fourth, plus the 2011, 2012 and 2013 Christmas specials of which the first was a dramatic masterpiece, but the second did not deliver in the same way in the opinion of most people although it ended dramatically. The third was not as good as the first but was good solid stuff which most will enjoy.
Receive free shipping on orders of $25 or more.
(Expiry: Unknown)