Amazon Canada: Playmobil Cargo & Passenger Aircraft Was $120 | Now $74 & Free Shipping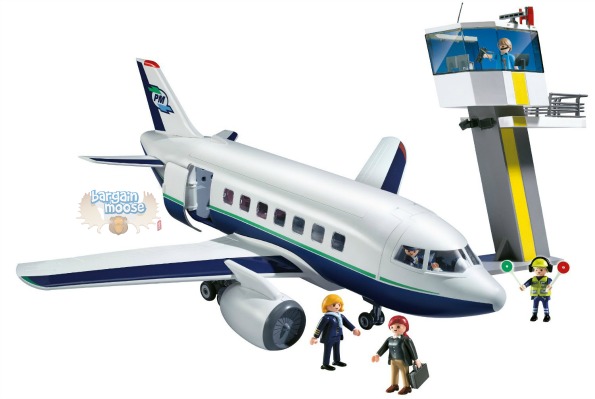 Playmobil is my life. Well, it seems that way with this house pretty much full of it. This Playmobil cargo and passenger aircraft was actually one of the first things we ever bought from Playmobil. Well, ours is a little bit different, but that was about eight years ago. And eight years later, my kids still play with it and it is still in the same condition as the day we got it. Playmobil doesn't often go on sale and when it does it is a maximum of 20% off. With this deal, you are getting 40% off. While this set is more than likely going to be discontinued, will your kid really care? Your wallet won't. Regularly $119.99, it is on sale at Amazon for $73.95.
I don't know a kid who doesn't like airplanes. What's cool about Playmobil's airplanes is that they are quite large, so they are definitely a major player in the kid's toys. This one comes with cargo that can be loaded and unloaded, plus a few passengers with luggage. It also has an air traffic control tower with equipment and accessories. We had to buy ours separate, so that's a nice little bonus. I also like the little traffic controller with his signs.
You don't have to take my word for it that kids and parents love this set. The reviews on Amazon give it a total of 4.8 stars out of five, with five 5-star reviews and one 4-star review.
Of course, I shopped around for price comparisons and found every other store had it on for full price, like the Playmobil store, Chapters Indigo (out of stock) and Toys R Us. The reviews on those sites are great too.
If you are looking for a birthday present, end of school year gift or want to save this for Christmas, either way, this is a really great deal. Shipping is going to be free as this item is over $25.
(Expiry: Unknown)