Amazon Canada: KitchenAid 4-Cup Personal Coffee Maker Was $100 | Now $50 & Free Shipping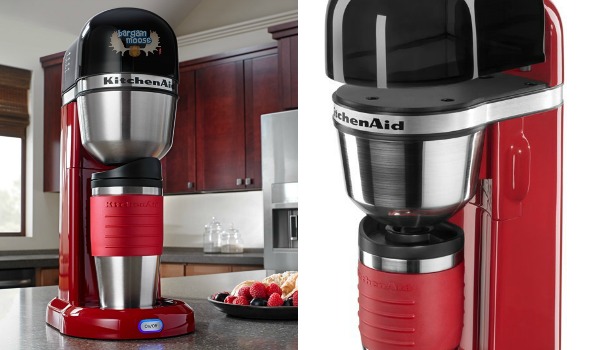 If you love the look of sleek KitchenAid appliances in your kitchen, you won't want to miss out on this deal at Amazon. Get the KitchenAid 4-cup personal coffee maker in empire red for only $50 and free shipping, with a regular price of $99.99.
I personally already have one empire red KitchenAid appliance in my kitchen and I think it looks fantastic on the counter. I don't drink coffee, but I'm still considering getting this appliance, mainly for my husband and the guests who come over who might want coffee.
I love that it has an 18-oz thermal mug with lid so you can make your coffee right in the travel mug and go. This way when my husband has very early mornings, he doesn't have to make that extra stop for coffee and wait in a long line at Timmies. I would just hope he'd bring it back each time!
So while they call this a 4-cup coffee maker, they mean 3.5 actual cups of liquid, not four cups of coffee. It brews 18oz into one cup, which is probably what you'd call an extra large coffee, although for some, this just gets them started.
It has varied reviews, although the majority are 5-star, with only one 1-star review. Reviewers love that this is a single-cup brewer but without the waste of k-cups or discs. Personally, when I see the waste that my husband's Tassimo discs add, I feel very icky. I find it ironic that the people opposing single use plastic water bottles have no problem slipping in a disc for their coffee and then throwing it out. This definitely feels like a solution to that problem.
I like what this one reviewer had to say:
This coffee maker makes a perfect cup! It's hot, strong, and convenient! The coffee maker is easy to clean, and a great size to fit into a small counter space! Best of all? It matches my stand blender!
The one-star review says they could only get the machine to work once. To me, that signals human error, as it would have a warranty, so all they would have to do is call and get a new one. Even KitchenAid can have the odd faulty machine.
I couldn't really find this machine anywhere else to price compare, but even on Amazon, I see other colour brewers selling for $90.
(Expiry: Unknown)