Amazon Canada: iRobot Braava 380T Floor Mopping Robot Was $350 | Now $250 (EXPIRED)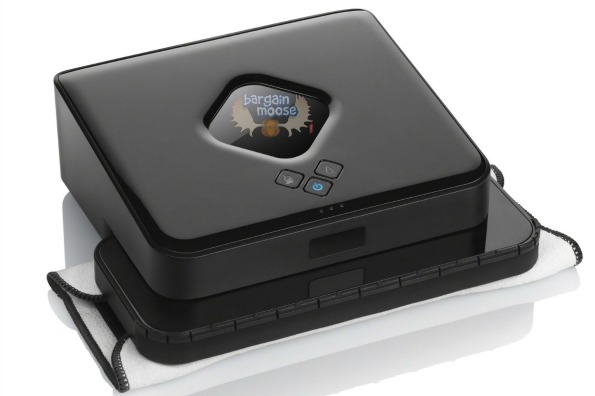 Say goodbye to backache and treat yourself to an automated solution to the mop and bucket!  Right now over at Amazon.ca you can save $100 off the price of an iRobot automated floor mop.
I find these days it is getting harder and harder to remember to do the chores around the house.  From putting in more hours at the office to chasing around kids and their activities – there just isn't enough time in the day anymore.  Why do we continue to complicate our lives when technology is making it easier to get the little things done?  That's where this neat little device named "iRobot" comes in.  I have been thinking for a while now about getting one of these.  Mostly just to watch in fascination as it scoots about the kitchen!
This is the current floor mopping robot "Braava" from iRobot that is on sale for $249.99 down from $349.99.  Not to be confused with the "Scooba" which is a floor scrubber that retails for $600.  The Braava will essentially replace the broom, mop and bucket to a degree.  If you're looking to get deep grime and marks off your floor the Scooba is a better solution.  The Braava features a dry and damp mop mode to efficiently pick up any dirt, dust and hairs.  One neat feature I like is you can use iRobot's reusable microfibre cloths instead of always throwing away a disposable cleaning pad.
The dry mop can clean up to 1000 square feet and the damp mop can clean up to 350 square feet.  That is a pretty decent range that should suit most of our kitchen and bathroom floors.  The battery lasts about four hours for dry cleaning and two and a half for wet.  The Braava only takes two hours to completely charge in its dock.  A couple things to note is the navigation cube requires 2 – C batteries which are included and you'll have to manually put the mop in its charging cradle.  This will work for every hard surface you have including:  tile, vinyl, hardwood and laminate.
The reviews on this model are pretty good with most rating it 4/5 stars.  Here's one review from Amazon that sums up how well it cleans.
Oh so quiet and it does an amazing job, have been using it everyday (almost) and it has saved me so much work amazing! Our family has two labs, one cat and four kids so this item is like an extra pair of arms, I use this after my scheduled Roomba vacuums up all the dog hair.
The cheapest I could find it elsewhere is at Best Buy and Future Shop where it is also on sale, for $280.  This is definitely something I'm thinking I should have asked for as a Christmas gift.
You get free shipping at Amazon for anything over $25.
(Expiry: Unknown)