Amazon Canada: Free Game ($70 Value) with PS4 Bundle Purchase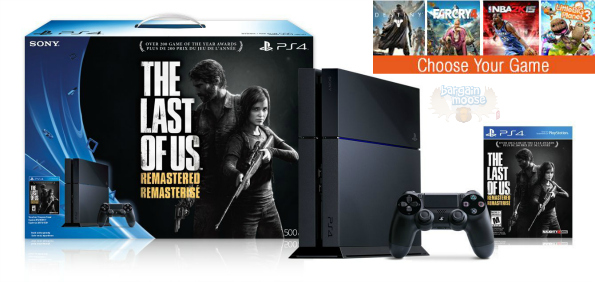 Amazon Canada is offering a free game worth up to $69.99 with the purchase of select PlayStation 4 Bundles.
The console must be purchased from Amazon Canada (not secondary marketplace sellers). The game will be in the form of a code that you can redeem at http://redeem.us.playstation.com . Expect the code to be emailed out to you within two days of your completed shipment. The following consoles qualify for this deal:
The Destiny Ps4 bundle is no longer available from Amazon Canada. However, if you have your heart set on that bundle, then watch the link to see if Amazon brings some in. Now, for your free game you have a choice between four titles:
Destiny
NBA 2K15
Far Cry 4
Little Big Planet 3
I looked at what these games are retailing for right now to give you a good idea as to the true 'value' of this deal. Destiny costs $44.99, NBA 2K15 costs $60.53, Far Cry 4 costs $42.44, and Little Big Planet 3 costs $46.99 for the PS4 editions. While it appears that NBA 2K15 is the best choice, it will all depend upon which bundle you purchase and which games you already own. You will not want to choose Little Big Planet 3 if you are going to get the bundle that already includes that game.
While this may not seem like a huge deal, the game is worth approximately 10%, if not a bit more, of the price you are paying for the PS4. Thus, I think it is a nice bonus given the PS4 console is still new.
The offer limited to one per customer and account. There is no expiry date so you should see this "Get a Select Bonus Game with PS4 Purchase" under special offers and promotions. If that is missing, then the promotion is over.
I am quite curious as to how many of our lovely Moosers have already upgraded to the PS4 and what you think of it so far. I only have a PS3, and I am quite attached to it since I have opened it up twice to fix it - successfully I might add! I do not think I play enough console games to warrant a new console, especially since I can play most the current games on my old console anyway. However, I would like to know what you think so comment below!
(Expiry: Unknown)