Amazon Canada: Cuisinart EasyPop Popcorn Maker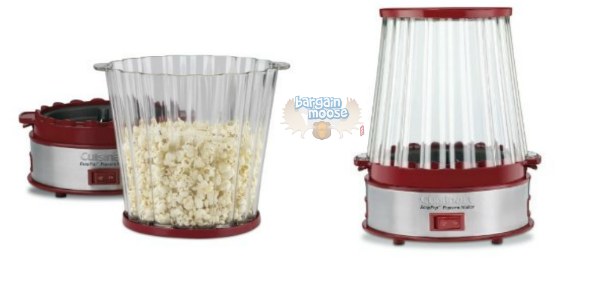 Like great big bowls of fresh homemade popcorn, that that stuff from the microwave? The Cuisinart EasyPop Popcorn Maker is a popcorn maker that is really simple to use. It has it's own built in bowl so all you have to do is tip it over and away you go. Originally $79.99 it is on sale for $54.99 (31% off).
This was one of the main things my hubby wanted on our wedding registry, and we ended up buying it together afterward. He loves his popcorn and the large capacity of this one was very appealing. He also likes that it is very quiet. This does come at the expensive of taking more time than 'traditional' poppers, but my husband really doesn't seem to mind. You just dump a little oil in for lubrication, add your corn, flip the switch and let it do it's thing. We made the mistake of keeping the red 'plate' on the top of the popcorn bowl the first time - whoops... and the popcorn ended up rather soft as it had steamed at the same time so be mindful, there are vents at the top (bottom - smaller end) of the bowl and for good popcorn you take off the red part.