Amazon Canada: Brother Personal Handheld Labeler Only $17.49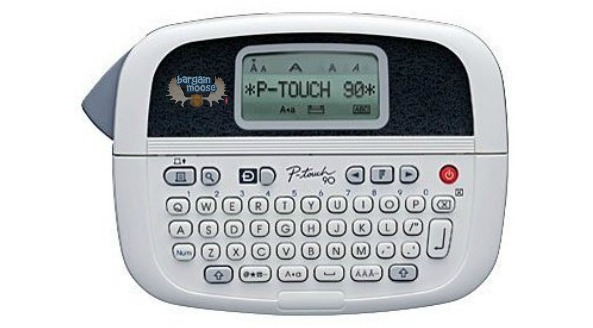 I'm in the process of moving (seriously, just sat down from loading boxes onto a truck) and at my new house I really want to get organized from the beginning. I was on the hunt for an inexpensive label maker and I think I've found one at Amazon. Get this Brother PT90 P-touch electronic labelling system for only $17.49, with a regular price of $34.99.
There are a number of features I really like about this labeling machine, one being the ability to preview what I wrote before I print. Another is that it has so many letters, fonts and patterns, as well as three changeable faceplates so you can customize it how you like it. You can create one or two lines of text and it comes with a black on white starter tape.
The reviews for this machine are wonderful, with most being either four or five star. I like how this one sums it up nicely:
This machine is great. The keyboard layout makes it easy to type. I also like the symbols, decorative modes and choices of font size and find that they are intuitive, even if you lose/get rid of the instructions. An awesome feature is a mechanism on the back that flips up the edge of your finished label so that it's easier to peel off the backing. I found it took some getting used to, but it makes life so much easier than trying to flick between the layers with stubby fingernails.
Of course I compared prices to other online retailers and found it sold for pretty much the regular price. Best Buy sells the PT-90 for $34.99, Staples sells it for $34.86 and Brother sells it for $34.99. This makes Amazon's price a definite hot deal.
Unless you spend another $8 or so, you'll have to pay shipping, as the free shipping threshold is $25.
(Expiry: Unknown)