Amazon Canada: 53% Off Batman The Complete TV Series [Blu Ray] Now $141 (EXPIRED)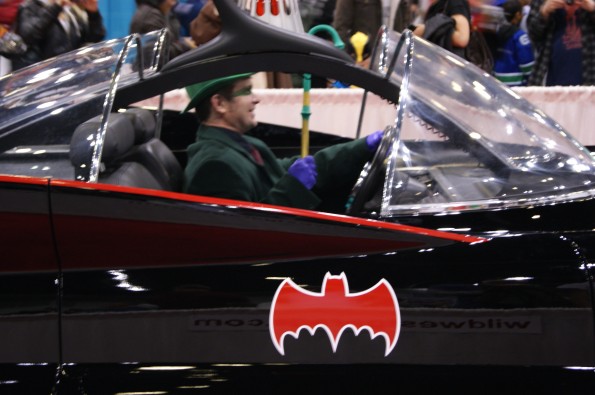 I am seriously geeking out over today's one day deal at Amazon Canada. Originally $299.99, Batman: The Complete TV Series (Limited Edition) [Blu-ray] is now on sale for $140.99 with free shipping.

This TV series is legendary in the geek world. Every time I attend a comic convention, there is always a smattering of humans who were born after the series that still dress up as characters from the series. Batman and Robin's costumes tend to be the most popular to cosplay, but The Joker and Catwoman still have a soft spot in many fan's hearts.
I quickly price compared this set with other retailers. Here is what the complete limited edition Batman TV series retails for elsewhere:
$239.99 @ Future Shop Canada (sold out)
$239.99 @ Best Buy Canada (sold out)
I also checked at Walmart. they have the regular DVD version for $168.97 - without the special edition car. Amazon Canada's price on this special edition set is certainly the lowest price around. Amazon also appears to be the only place to find this set right now.
A quick look at reviews will show you that this set is well loved. One reviewer said:
A newly re-mastered classic TV series. What's not to love? The box design is great, the way the product is laid out inside the box just makes this really feel like a collector's item. Not to mention re-watching this amazing series all over again is great fun!
This special edition set includes all 120 original broadcast episodes that have been fully remastered in HD. You also receive the Adam West scrapbook, 44 vintage trading cards, and a 32-page complete episode guide. On top of that, you can put the entire collection on your computer with the ultraviolet digital copy that is included with the set. This set also includes three hours of never seen before special features. The highlight of this set, in my opinion, is the Hot Wheels replica Batmobile that you receive as well. This was the first of many iconic cars driven by the millionaire hero.
Speaking of the car, I have seen it in person. Two years ago (I think), I was at the Vancouver Comic Expo. They brought in the original Batmobile car from this series. It was one of the highlights of the show and there was always a crowd taking pictures around it. I caught that picture above when The Riddler decided to steal the Batmobile. Thankfully, the attempt was thwarted!
Image credit: Avigayil Morris
(Expiry: 20th March 2015)