Amazon.ca: Good Deal on Shrek The Whole Story Quadrilogy DVD or Blu-Ray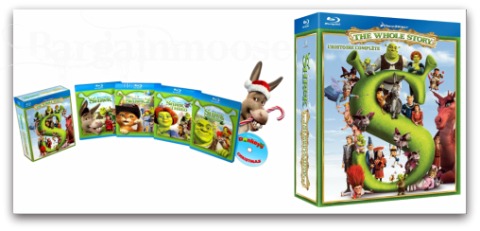 For those who are up on their big green ogre news, know that there were 4 Shrek movies. They have released them as a boxed set called Shrek "The Whole Story Quadrilogy." I found the DVD copy at Amazon for only $35.14 and the Blu-ray copy for $45.93. The set includes 5 disks, so the 4 movies plus hours of extras.
Both are for a great value. I price compared with Best Buy and they have the DVD set for $42.99 and the Blu-ray set for $60.99. You can see the savings pretty easily.