Amazon.ca: FREE Trial Of Amazon Prime!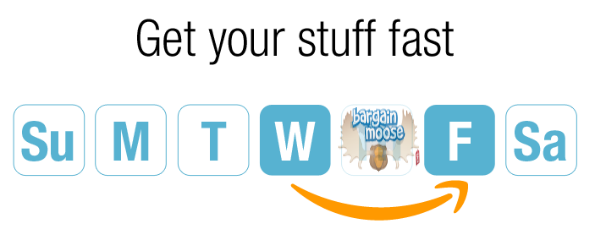 Prime is the absolute best thing to happen to Amazon Canada since their FREE Super Saver shipping dropped to $25 from $39, and you get to try it FREE for a month!
I did a little dance when I found out about this. Actually, I didn't because I'm lazy and my back hurts, but I totally THOUGHT about dancing! What is this amazing dance-thought-inducing magic? Amazon Prime is a subscription service that gives you UNLIMITED FREE Two Day shipping on items sold by Amazon Canada for only $79/year!
This is actually super amazing and awesome for three reasons. One is just speculative but the others are legit.
The first is obvious. Shipping is cheaper. You get FREE two day shipping and a discount on one day shipping. From what I know about the U.S. Prime program, most things you get with the free two day shipping comes in one day. It's just not guaranteed to come in one day. I don't know if that will happen with Canadian Prime but I suspect, from my personal experience with shipping from Amazon Canada, it will.
The second thing is that getting stuff from Amazon Canada is more convenient without adding cost. So let's say, for example, you have a newborn and it's the middle of January. It's supposed to be snowing and -27C out for the next week and you are running out of Munchkin Arm and Hammer Diaper Pail Refill Bags. What are you going to do? Throw the diapers at your husband like some kind of crazed monkey woman? ... How did I get there? Anywho, onward! Normally you'd have to wrap your baby up and venture out to get them. Now with Amazon Prime in Canada you can buy a three pack for about $22 (the same price as Wal~Mart Canada's website) and have them shipped to your place for free.
The third reason, and the one that is totally speculative and kind of borderline money saving is that this may be a precursor to Amazon streaming and a free Kindle book each month like the U.S. Amazon has. Amazon in America lets you stream some of their Movie and Television content for free if you are a prime member and they let you "borrow" one Kindle book every month, free of charge. We just got a Canadian Kindle store so maybe this means we're going to be looking at some Amazon streaming services soon too!
(Expires Unknown)