60% Off Treehouse The Ultimate Collection DVD Cube just $30 & Free Shipping @ Amazon.ca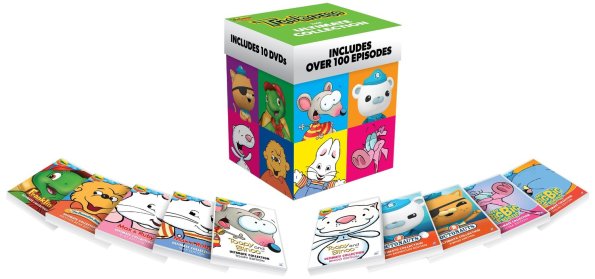 Hey Moms, act quick on this offer from Amazon.ca! We all know that Amazon prices change so quickly, and you won't want to miss out on this offer. Currently you can snag the Treehouse The Ultimate Collection DVD Cube on sale for 60% off, which leaves you paying just $29.99 for quite the collection of popular kid TV shows on DVD. Plus you will even get free shipping.
I have a portable DVD player in my truck for the kids, and I have to admit it has been a huge lifesaver for many different situations. Whether it comes in handy for long road trips or traffic jams, it is definitely an item I am glad I have. I am always on the hunt for inexpensive movies and shows that I can keep in the truck. At home, my TV never leaves the Treehouse TV channel and now my son can enjoy his favourite shows like Max & Ruby, Octonauts, and more wherever he goes. Plus, this Treehouse The Ultimate Collection DVD Cube is available for a fantastic price right now. You will get over 10 hours of your child's favourite TV shows for just $29.99.
I took a look around at other stores in Canada to see how great this deal was, and I approve! You won't find this DVD cube for a better price anywhere else in Canada right now. Take a look at what this Treehouse The Ultimate Collection Cube sells for at other Canadian retailers:
$52 @ Shop.ca
$52 @ Costco.ca
$98 @ eBay.ca
There are over 100 episodes of different popular Treehouse TV shows, which totals to over 10 hours of different shows. The TV shows included are Franklin, Berenstein Bears, Max & Ruby, Toopy and Binoo, Octonauts, and My Big Big Friend. If you have a child between the age of 1 and 6 then you are most likely familiar with all of these shows. Would it be horrible of me to say that I am thankful that Caillou is not included in this The Ultimate Collection DVD Cube?! That show drives me crazy! I am happy with the TV shows included here, though. This is a great purchase.
This Treehouse The Ultimate Collection DVD Cube is shipped and sold by Amazon Canada, which means you will get free shipping since the item is over $25.
Moosers, do your little ones love these shows?
(Expiry: Unknown)