76% Off Facilla Refillable Travel Perfume Bottle Just $2.41 + Free Shipping @ Amazon.ca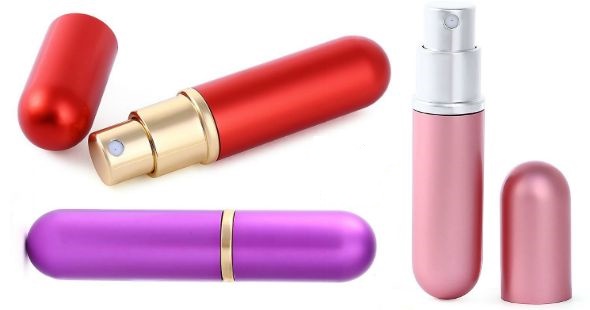 *Bump! This offer is back at a better price!!*
Do you travel frequently? If so, then you probably know the pain of wanting to bring your favourite perfume but not wanting to break the pretty bottle - or not wanting to bring that large of a bottle with you. Little travel bottles are also a great way to ensure that kids don't get into your favourite smelly stuff along your journeys. Trust me, that one can get really smelly. No worries, Amazon.ca has the Facilla Refillable Travel Perfume Bottle on sale for 76% off right now. That means you will pay just $2.41 for this convenient little item. Shipping is also included.
There are many brands of refillable travel perfume bottles around, but a lot of them are cheaply made and end up leaking allover your luggage or clothing. The Facilla Refillable Travel Perfume Bottles are always my first choice when it comes to these little trinkets. I have previously bought them at the regular price which is $9.99, but right now they are on sale for just $2.41. There is a variety of colours available too, so if you want to bring more than one perfume with you then I suggest grabbing a few different colours so you can easily tell which scent is what.
The colours available are:
black
gold
pink
purple
red
silver
The Facilla Perfume Bottle is both compact  and lightweight which makes it absolutely perfect for travelling or vacations. It is easy to carry anywhere, whether you stash it in your purse, car door or luggage bag and your perfume won't leak allover everything. It is also quite simple to refill without making a mess which is nice. There is nothing worse than spilled perfume. This particular perfume bottle only carries 6mL of  your favourite scent, but that should be plenty for purse purposes or travel.
I recently went on vacation to New Brunswick and brought my expensive perfume in the regular bottle because I couldn't find my refillable perfume bottles. Needless to say, by the time I reached my destination my entire selection of clothing smelt like City Love. While it is a nice scent in small doses, I will pass on pouring the entire bottle on myself in the future. That perfume smells strong. Also, if you fly to your vacation spots, then you know well that the baggage handlers do not handle luggage gently.
Amazon Canada normally requires a $25 spend to get you  free shipping, but this item is shipped and sold by solewireCA and they provide free shipping on this item even though it is just $2.41.
(Expiry: Unknown)