53% Off Lifeline Red Vacuum Insulated Wine Growler Just $12 @ Amazon.ca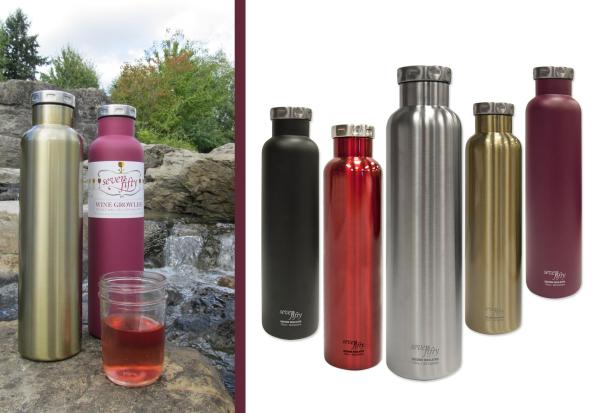 Wine. One of the many words that can make me instantly happy! If you are a fellow wine drinker, then let me introduce you to this Lifeline Valentine's Day Red Vacuum Insulated Double-Wall Fifty Fifty Wine Growler. It has a 750ml capacity and you can snag it for 53% off right now at Amazon.ca. I can't find anywhere else with wine growlers for just $11.82! Spend $25 to get free shipping.
If you find yourself asking what a wine growler is, then let me give you a brief description. A growler type container is more of a beer-drinker item, but it has been introduced to wine-drinkers as well. A growler container is designed to be securely covered and is intended to store your wine so you can consume it wherever you desire. Picnic or a weekend at the cabin perhaps? This container will ensure that your wine is transported securely, while keeping your favourite wine at the perfect temperature.
There is only one colour available for this price - the Valentine's day special Ruby Red colour. You won't complain about the colour though when you hear what these growlers sell for elsewhere. The market suggested retail price is $24.99 US, so you can see this is quite a steal of a deal. This wine growler is the Fifty Fifty brand, which is the most popular growler brand in my opinion.
This product boasts excellent reviews on Amazon.ca. Customers state that the Fifty Fifty Growler kept their wine chilled and didn't allow any to spill. I mean, every last drop counts right? On the flip side, this container can even be used to keep your hot chocolate or soup warm during these ice-cold months of the lovely Canadian winter. Thus, these growlers are great for parties, BBQ's, hikes, beach trips, picnics, camping trips, and so much more.
Since this item is shipped and sold by Amazon.ca, you can get free shipping on all orders over $25. Maybe you want to grab a few of these growlers? You can use them yourself or they make excellent gifts for any occasion really.
(Expiry: Unknown)