15% Off SportChek Gift Cards @ Shoppers Drug Mart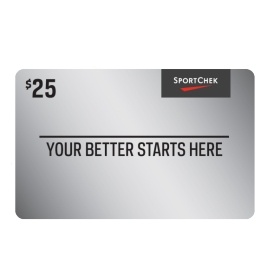 I seem to be finding lots of discounts on gift cards at Shoppers Drug Mart lately - hopefully they make it a habit. From April 16th until April 22nd you can head into your local Shoppers store and get 15% off SportChek gift cards.
Getting a discount on a gift card is like getting free money - especially when it is for a store that you frequently shop at. If you need anything from SportChek in the future - then get your hands on this discount. The gift cards never expire too, so this may be a good way to grab a few gifts for birthdays throughout the year.
SportChek quite often has stellar deals on too - so hold onto your gift card until a hot deal comes up. Reap the best benefits by combining the discount on the gift card with discounts on items you need the most from SportChek. I even think you can use those gift cards at SportChek's online store!
There isn't even a limit listed as to how many SportChek gift cards each person can buy - so have at 'er if you need to get new sneakers or sports clothing for the entire family. I buy myself a nice pair of Nike running shoes every other year or so - and 99% of the time I buy them when SportChek has a killer sale.
(Expiry: 22nd April 2016)