Want Free Toblerone Chocolate?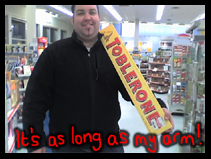 If you order the Toblerone discount coupons on Save.ca, they will mail you out the free coupons for a $1 reduction.
Your local Canadian Walmart should have the 50g Toblerones for $0.97. You can put the coupon towards this, and just pay the tax to the cashier… whatever that may be in your province, E.g. In British Columbia, you'd pay approx 9c per bar. Hopefully you'll receive the save.ca coupons quite soon, in time to take advantage of the offer!
OK, so my title was a bit of a stretch… but they are technically free, as you're only paying the tax.
I've been googling and I've seen quite a few dessert recipes on the internet, where people use Toblerones as a base. The thought never even crossed my mind! For example, Laura has a recipe for "No Bake Toblerone Cheesecake" – sounds gorgeous!
Thanks for the pic Steve Dinn!