Use this Mail in Rebate to Get a Free Anniversary T-Shirt When You Buy 5 Reese Peanut Butter Cups (3 Pack)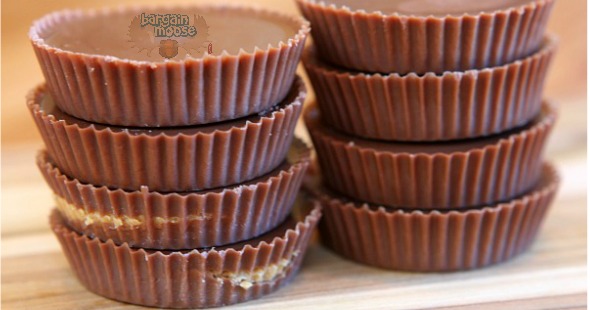 There is a new rebate available through Hershey's Canada. I never thought I would see the day where I could get something free just for eating chocolate. With this rebate, you can get a free Reese Anniversary T-Shirt when you buy 5 participating Reese Peanut Butter Cups. They must be the 3 pack.
Getting your free Reese Anniversary T-Shirt is easy. Look for the participating 3 packs of Reese Peanut Butter Cups. You will have to purchase 5, but the more the merrier, right? These delicious chocolates must be purchased between the 8th of December and the 15th of June 2015 to be eligible.
You will also need to download the PDF rebate form and fill in all of the required sections. You will have to send in your 5 original UPC codes with your rebate form. Simply cut them out of the package of your much enjoyed Reese Peanut Butter Cups. Send your envelope with these items to:
REESE 3-Cup Anniversary T-Shirt Offer
P.O. Box 9410, Don Mills
Ontario
M3C 4C6
Personally, the Reese Peanut Butter Cups chocolate are my absolute favourite. I have no problem purchasing 5 packages of these! Unfortunately, if you have peanut allergies then these tasty treats won't be for you. Valentine's Day is also coming up, so stock up and surprise your loved one with 5 packs of the chocolate I refer to as heaven in a cup.
Your rebate form must be received by Hershey no later than the 22nd of June, 2015 so be sure not to miss that. Once they check out your rebate and UPC codes, your free Reese Anniversary T-Shirt will be sent in the mail. You will have to be patient and wait between 6-8 weeks to receive your shirt. Of course there is a limit on this offer. Only 5000 lucky people will receive a free t-shirt. This offer will be based on first come, first serve so you may want to get your rebate in as soon as possible.
There are also size choices which is excellent. Many times when I order a free t-shirt from somewhere, I don't get to choose the size and I end up with an XXL or something. I am pretty petite so I never end up wearing it. I find that's the usual case when you get a free t-shirt in a case of beer. The sizes available from this Reese Canada offer include ladies' medium or large as well as men's large or extra large. Unfortunately there will be no children sizes available.
(Expiry: 15th June 2015)