UFile Canada: Free Tax Return for Students

If you are a student and paid tuition in the last fiscal year, you can file your taxes with Dr Tax UFile for free.
Click here to see this student promotion @ UFile.ca now
Special offer code: FAY1493
Discount: free student tax filing
Expiry: Unknown
There is a long list of rules so I will try to summarize them for you. This offer is open to Canadian residents who have attended school for a minimum of one month during the tax year. You also need to be designated as the 'family head' for the purposes of filing your taxes.
Filing your taxes is as simple as tax filing can be. Login or create an UFile account for the current tax year. Then enter your tuition fees and months at school. After that, find the "Special offer" form via UFile's QuikClik Navigator - you may need to scroll down for the offer. In the special offer box, enter the code listed above and then click next.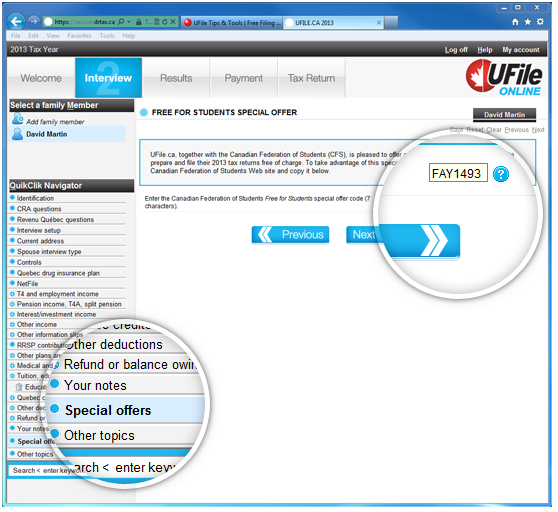 You have hit all the important steps - all that is left to do is actually enter your information for tax purposes. You have the option of printing out the taxes and mailing them in or NETFILE your return. I think submitting online is simplest and the entire process should not take you too long.
This offer is valid regardless of your personal income as a student. I know as a student that it is difficult to make ends meet. You need to pay tuition, pay for books, pay for transportation, and then there are housing and food costs. As a student, I was rather grateful for any student freebies or even price reductions. It is hard enough to budget without taxes to think about.
I also know how inconvenient it is to do taxes. Right now, you are probably in between classes and wondering how you will ever get your taxes done in between classes, studying, assignments, and life. I find filing online the easiest way to take care of your taxes and, for the average student; it should take less than an hour.
I assume this promotion expires the night before all your tax returns have to be filed with the government, but the promotion does not say.
Check out this and any future Dr Tax Ufile coupon codes on the forum.