Shoppers Drug Mart - Gift card with purchase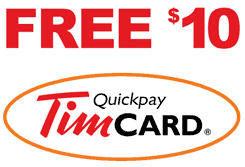 Head on over to your Shoppers Drug Mart on September 12 & 13, spend $50.00 and get a free $10.00 Tim Hortons Gift Card.
I so need a new hair dryer so this is good incentive to head to SDM and scope them out plus the makeup stuff is always fun to look at.... plus hubby gets a present too!  Win - Win situation!!