OpenFeint: Games Made Free for 24 Hours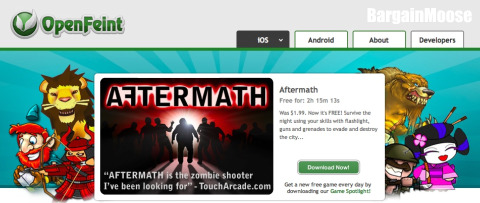 If you have never heard of OpenFeint you are like me not too long ago. OpenFeint is many things, but the best of it's qualities is it's free game of the day for iTouch / iPhones. It takes games you usually have to PAY for in iTunes Store ( around $0.99 - $4.99), and makes them FREE for 24 hours. It 'frees' one game a day.
You can find out what game is free two ways:
So if you spend money on games for your touch/ipad/iphone this is a great way to be introduced to great games generally very high in ratings) and to get them for free. I find this an awesome program because I don't have time to waste on finding games only to get games with 1 - 5 levels and then have to pay to unlock the other 72 levels. I am looking forward to complete games of awesomeness!