Neilsen Homescan Surveys: Earn Rewards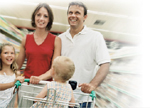 If you're interested in participating in surveys to gain some nice perks and prizes, Neilsen surveys operate a good incentive program here in Canada, called HomeScan.
Here's how it works: they send you a bar code scanner, and you scan the bar codes of items which you purchase in the home, like your groceries. It sounds like it only takes a few minutes, as you would just do it as you are putting your groceries away. Once a week, you submit the information on your purchases to them, via a USB cable on your PC.
There's a bit more info on their about us page, if you'd like to read it in more depth. From what I can tell, it's free, and confidential.
Scanning your purchases earns you points, which you collect and can then redeem for gifts. From the image on the landing page, the gifts shown are things like GPS systems, health grills, camcorders... I don't have a full list of the gifts yet.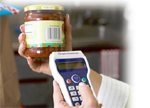 Neilsen are one of the biggest survey companies in the world, they are a very reputable brand name, so absolutely legitamite.
If you have a little spare time, and want to try and earn some nice perks, the program could be quite handy.
I haven't used this program yet, so I have no personal experience of it. Are any of the Bargainmoosers already members of this? What are your opinions please?