Kelsey's Restaurants Canada: $5 Gift Card w/ Purchase Of Every $25 Gift Card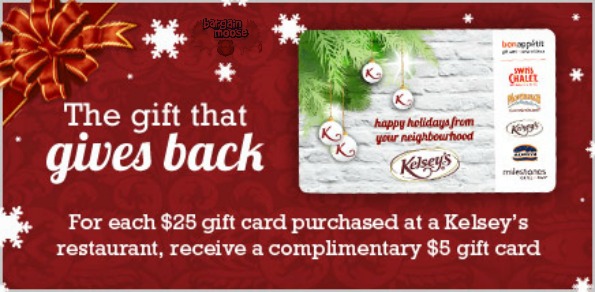 Kelsey's Canada is giving away a complimentary $5 gift card with the purchase of every $25 gift card.  Gift cards are redeemable at Kelsey's, Milestones, Montana's, Swiss Chalet and Harvey's.  Offer is valid for a limited time while supplies last.
This is a great idea for those that like to dine out.  You can create a custom card with your own design, or choose from cards available.  You can even send an E-Card.  I think that it would be an awesome stocking stuffer.  It's always fun to receive a gift card for a favourite restaurant.
Creating a custom card is pretty cool: select the template you would like, vertical or horizontal, then upload an appropriate image or select one from the gallery.  Then you can add a custom message in the font of your choice.
With E-Cards, you can create, print or email them to a friend with no waiting for shipping.  What a wonderful idea for friends and family that are too far to visit for the holidays.  I think it is awesome that you get a $5 card for every $25 one that you purchase, and the cards are also reloadable.
Shipping: $3.49 for regular shipping.
(Expiry: Limited time only)