iCoke Canada: Free 519ml Bottle Of Coca Cola Soft Drinks (Coke, Sprite etc)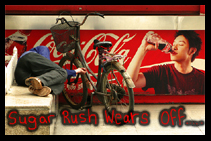 Update: Coupon Arrived!
Steaming hot freebie here from The Coca Cola Company in Canada!! This one is doing the rounds on a few forums, so definitely worth blogging about! Here's exactly what you need to do to claim your Canadian freebie:
Register

on iCoke.ca if you aren't already

Go to the promotion page and click "buy it now

Order your coupon!
Once you have done this, you should receive your soft drink coupon in the mail within 90 days. You can then take it into your local grocery store to redeem it. I'll be bringing it with me to Superstore! You can use it to claim a free 519ml bottle of your fave coke product, be it Sprite, Coke Zero, or Diet Coke. It will be good old regular Coke for me!!
You can make your coupon claim up to the 1st of November, and then you must redeem the coupon before the 31st December 2008.
Thanks for the image "life in asia".