Get 30 Free Gifts To Grow Points @ Pampers Canada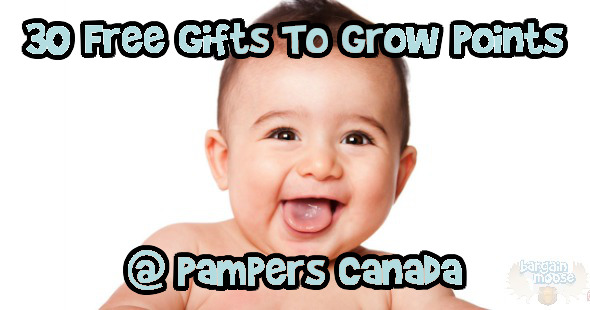 Do you collect Pampers Gifts To Grow points? If you don't you probably should. Once you have enough points you can trade those points in for some awesome freebies. Right now Pampers Canada has two separate codes available to get a total of 30 free Gifts To Grow Rewards points. These codes won't last long, so enter them into your Pampers Canada account now.
I am a huge fan of the Pampers Gifts To Grow Rewards program. Diapers are already pretty expensive and a huge cost involved with having a child. Reward yourself and your little one with freebies you can redeem once you have accumulated enough points. Entering the codes only takes a couple seconds, and the benefits are worth it. You can use them to redeem free items like photo gifts, toys, gift cards and other essentials.
Here are the two Pampers Gifts To Grow Rewards Points codes that are available right now:
CMTY3819FRM2015 - 20 free Pampers points (expires tomorrow)
PRWELCOMEU10PTS - 10 free Pampers points (expiry unknown)
You don't even need children to start collecting your free Pampers points. A friend of mine collects thousands of points every year just by watching out for these free points codes. She then redeems her points for gift cards and photo gifts to give for Christmas. I also previously used my points towards a Well.ca gift card. Now I see they have a Dora toilet training seat available for 1000 points. Too bad I have a boy or I would use my points to claim that freebie.
Here are some of the other rewards that are available right now at Pampers.ca:
500 points - Prints Package from Shutterfly
750 points - Pampers Rewards Digital Downloads
900 points - JJ Rabbit Ergo Fork + Spoon Set
1200 points - Amazon.ca $10 Gift Card Code
1300 points - Step 1 Lil Bakers Cupcake Set
7500 points - Micro Mini 3 in 1 Scooter
It is up to you if you want to use your points as soon as you can or use them towards larger valued items. Shipping and handling costs are all included, so you will literally pay nothing for these offers.
You can check out all of the Pampers Gifts To Grow Rewards Points free codes in our Bargainmoose forum.