Free Workshops for April @ Home Depot Canada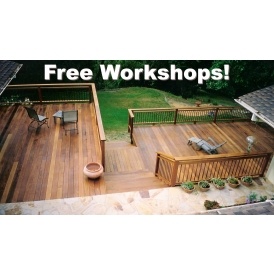 Welcome April! With a new month, comes new free workshops at Home Depot! This month you can take the kids to learn how to build a butterfly house, or even learn how to repair your deck for the summer months. Home renovations can be so expensive, so why not learn how to do some of it yourself?
This month, the first available workshop is April 9th, so you have lots of time to plan your schedules.
Here are the free Home Depot Canada workshops available this month:

Build A Butterfly House

This hands-on workshop is designed for kids between the ages of 5 and 12. It takes place on Saturday April 9th at 10 AM until 12 PM.
How to Repair a Deck

This free Home Depot workshop will give you the opportunity to learn how to do your own deck repairs. You can attend on Saturday April 16th at 10 AM until 11 AM.
Build a Planter Bench

I've always wanted some cute planters! On Wednesday April 20th at 7 PM until 8 PM I am going to learn how to build one myself and what materials to use.
Enhance Your Home's Curb Appeal

Are you planning on selling your home, or maybe jut want to make it look better? Enhance your home's curb appeal - you can learn how at Home Depot on Sunday April 24th from 1 PM until 2 PM.
Have you ever taken a workshop at Home Depot? Would you recommend them?

(Expiry: 30th April 2016)