Free sample of New Bounce Awakenings @ P&G!
UPDATE: Received!
Free samples are brilliant! I love checking the mail in the morning and finding a free surprise which I had forgotten I ordered!!
This post is for a free sample of New Bounce Awakenings - if you want your clothes to have that "just out of the dryer smell" all the time! It comes in Renewing Rain or Paradise Thrill scents. Apparently, they contain scent beads that release a fresh smell continuously throughout the day…
To get this freebie shipped to you, click here to go to the P&G website, and just fill in your details.
This offer is available for Canadian residents. Limit one sample per household while quantities are available.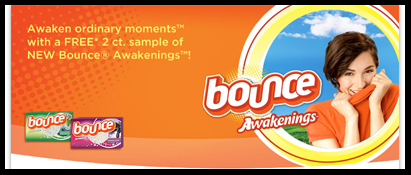 If and when you receive this free sample, it would be great to hear from you in the comments below!
- Anna