Free Ice Cream Cone @ Ben & Jerry's Canada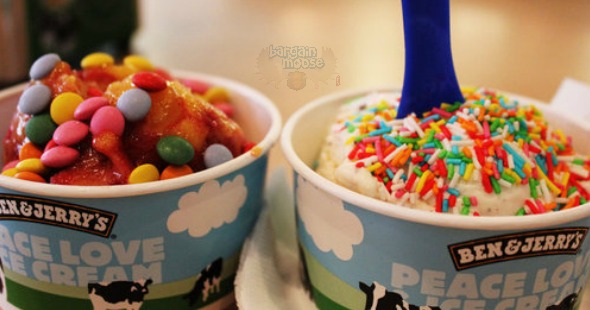 Free ice cream?! Head into a Ben & Jerry's Canada location tomorrow the 14th of April to get a free ice cream cone during their Free Cone Day promotion. This is Ben & Jerry's way of saying thank you to their faithful fans and customers, so be sure to drop in and collect the token of appreciation.
Tomorrow is the annual Ben & Jerry's Free Cone Day. While I have noticed that there are not many Ben & Jerry's locations in Canada, free ice cream is too hard to pass up. If you have a Ben & Jerry's Ice Cream Parlour near you, make sure you get in at some point tomorrow to claim your free ice cream cone. This offer is valid from noon until 8pm tomorrow only.
By looking at the store locator, I can tell you that there are Ben & Jerry locations in Saskatchewan, Alberta, Ontario, and Manitoba. There seems to be about 25 locations across Canada, so hopefully there is one close enough for you to enjoy this freebie. Ben and Jerry's has been giving away free ice cream once a year since 1979, so why break the tradition?
I have tried Ben & Jerry's ice cream from the grocery store - and my are the flavours ever delicious. I would only imagine that they would be so much more delightful in the actual ice cream parlour. This offer does not specify which size cones and flavours are included in the offer. I took a look at Ben & Jerry's flavour list and I may or may not be drooling already.
Take a look at some of the flavours and you'll surely be collection your free ice cream cone. How about Banana Peanut Butter, Chocolate Chip Cookie Dough or Strawberry Cheesecake? Om nom nom! I think I will be having a bubble bath with a bowl of ice cream tonight.
Enjoy the free ice cream Moosers!
(Expiry: 14th April 2015)