FREE Guess Sunglasses ($190 Value) - Just Pay Shipping @ 38DollarGlasses Canada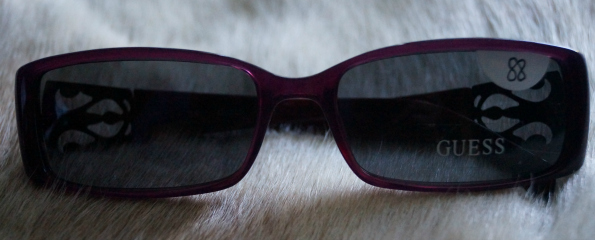 Pick up a pair of FREE Guess sunglasses when you use coupon code 38OFF to receive an extra $38 off Guess sunglasses that have been already discounted to $38! Just pay tax and shipping.
Now, you can get these sunglasses with prescription lenses. Simply add in your prescription information to receive custom lenses. The cost $38 before coupon) covers prescriptions under 3.00 and smaller astigmatisms (under -0.75 cyl). If you do not need prescription lenses, then select the option 'frames only' to purchase the normal glasses. I chose this option the last time I ordered from this company and it worked well.
Now, all these glasses were originally valued at $189.20 and are now on sale for $38. After coupon code, you will only pay the taxes and shipping for these glasses.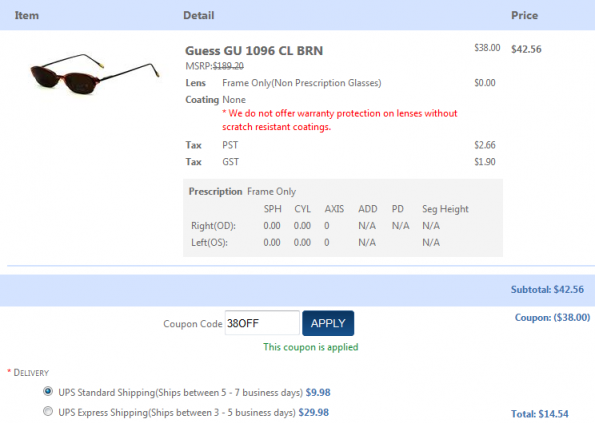 Choose from three different styles.
I purchased the Guess 6378 style in a dark red the last time I saw a sale like this (the dark red is now OOS). The glasses are rather well made and felt like an absolute steal for only $14.54. They even came in a nice case that I could keep them in to prevent them getting scratched. All original tags were attached and they really felt nice. I chose those sunglasses because they have a really nice metal decoration on the sides that appealed to me. In addition, my current lenses are somewhat scratched, thus I needed a new pair.
The only downside is that they do not look quite right on my face. They are a bit too narrow for my size of face so my eyebrows pretty much sit over them... it looks somewhat funny. I really do like the style though and the quality is quite good. I would recommend them to anyone who usually wears that width of glasses.
If you currently wear glasses or sunglasses, I highly recommend measuring your current pair of glasses and then comparing the measurements on 38DollarGlasses to your own. That way you will have a better chance at finding a pair that suits your face, as they should be close in measurements to your current favourite pair.
If you purchase a pair of glasses, then please let me know which style you chose! I always look forward to feedback from happy Moosers.
Image credit: Avigayil Morris
(Expiry: Unknown)