FREE Frappe Samples @ Second Cup on June 9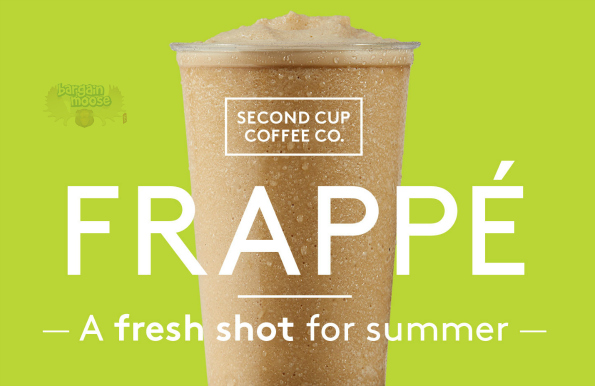 Second Cup is giving away free frappe samples at cafes across Canada tomorrow. From 2PM to 4PM on June 9th, enjoy a free frappe sample at your local Second Cup location.
I am not sure how big the samples are - but they are free so what is the difference? You can choose from several different flavours:
Espresso
Mocca
Caramel
Vanilla
This promotion appears to be all over the country, wherever there is Second Cup location.
My main question was: "what is a frappe?" According to Second Cup, a frappe has a shot of espresso that is then combined with a dairy of your choice (skim, 1%, 2%, homo). Add in a bunch of ice and a flavour shot of your choice. It is fully customizable to your taste.
I hate coffee and most anything that tastes like coffee except for two things: Coffee Crisp and iced coffees. There is something glorious about sugary-sweet and ice-cold coffee for summer: it really gives me an energy boost. It is best to drink one earlier in the morning or else I am so juiced that I have trouble falling asleep at night.
I have not had a frappe before, but I am eager to try Second Cup's version. Second Cup used to be my local cafe and I enjoyed many of their summer and winter drinks. The white hot chocolate is amazing, their cold hot chocolate slushie thing for summer is my favourite drink ever, and their apple cider is quite good.
Here is a quick video of the new Second Cup Frappe:
(Expiry: 9th June 2015)