FREE Air Wick Canadian Parks Series Product with Mail-in-Rebate ($15.50 Value)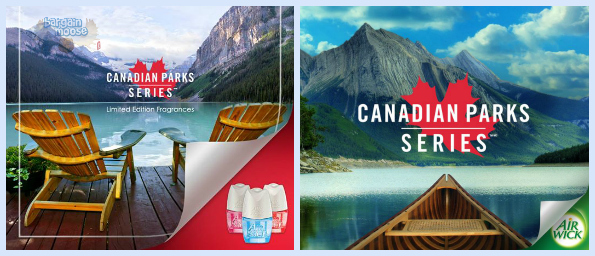 We love Canadian freebies at Bargainmoose, even in the form of mail in rebates! Purchase any Air Wick Canadian Parks Series product and fill out the following mail in rebate form to receive a full refund! The refund will cover up to $15.50 value of the product you purchase. In the end, your Air Wick product is free!
The rebate covers the cost of the product, taxes, and postage up to $15.50. You need to buy an air Wick product specifically from the Canadian Parks Series to be eligible for this rebate.
As per usual, you need to mail in your rebate. Complete the above 'official rebate form' and attach the original receipt. On the receipt, make sure to circle the purchase price. Then write the Universal Product Code (UPC) from your product on the receipt. As Air Wick says:
Only original rebate forms and dated cash register receipts with the UPC code recorded, will be accepted. 
Purchases made between June 10th and August 31st are eligible for this rebate. I suggest mailing in the official rebate form as soon as you make your purchase. All rebate forms must be received by September 30th. As per usual, only the person who purchased the original product can receive the rebate - this offer does not extend to clubs, organizations, etc.
The fine print does not make it clear whether the delivery of your refund will be six to eight weeks after you submit your form or after the promotion closes. Either way, expect a bit of a wait before you receive your rebate cheque.
I have not used Air Wick in ages. My parents used to always have a can of Air Wick for the bathroom as it tends to be the most fragrant room in the house. I really like when a house smells clean and beautiful, like someone collects fresh flowers every day. Thus, I might take advantage of this promotion myself.
Last time we posted one of these deals, a lovely Mooser wanted to know if they accept Walmart's online receipts. Mooser YesM replied with the answer:
Yes they honor Walmart's online receipt ( you have to print it from your email confirmation)..packing slip is not dated I think, and has no price, so I didn't use that.
This is good to know as Walmart Canada often has the best prices on this stuff.
(Expiry: 31st August 2015)