Cineplex Canada: Free Game Of Thrones Live Finale Screening With Purchase Of $10 Concessions On June 15th 2014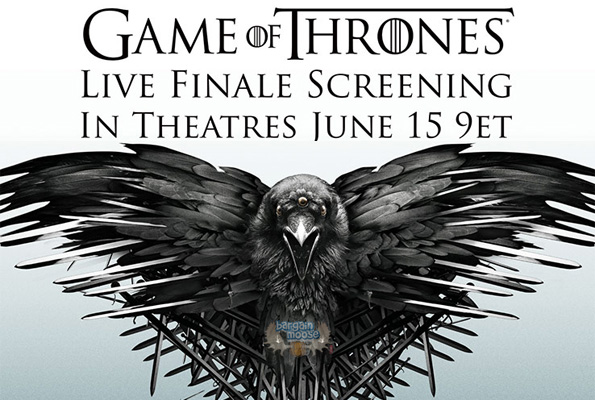 Calling all Game of Thrones fans! Watch a live screening of the finale on the big screen at a participating theatre near you for free with purchase of a $10 concession voucher. The screening will take place at select theatres on June 15th 2014 at 9PM ET.
Not to be biased, but I absolutely love Cineplex and rarely do I watch movies at other theatres and all this just because of Scene Rewards. In fact, I frequently watch movies in IMAX or UltraAVX for absolutely free. Scene members get 10% off all movie thickets and concession items, along with 100 Scene points for each movie watch. Plus, you can get an extra 10 points just by ordering your tickets online. Once you have accumulated 1000 points, then you can redeem them for any movie ticket on any date. I only use my points on action-packed movies in IMAX or UltraAVX like Spider-Man or Batman on super busy week-end days.
To get back to the topic on hand, Cineplex's latest promo is definitely pretty cool. Sure, you need to get a $10 concession voucher but then again, I'm willing to bet that the vast majority of you can't resist that buttery smell and popping sound of popcorn when you walk by the concession stand. I know I can't! Heck, I even get enticed into buying those blasted M&M packs!
In case you haven't noticed, I have made no mention of Game of Thrones yet and at the risk of getting chastised by all you Moosers, I must admit that I have yet to watch a single episode. This isn't to say that I haven't wanted to, but shows like The Following, Orange Is The New Black and Sons of Anarchy have been taking up all of my time lately. But, if I was a Game of Thrones fan, then I would definitely want to watch the finale in a packed theatre room surrounded by others fans! Wouldn't you?