Canadian Freebies: Yves Rocher – Free Winter Gloves!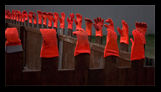 Yves Rocher Canada will give you a free pair of gloves just for visiting their store! They seem quite nice, they are brown fleecy ones. All you have to do is print out the form from YvesRocher.ca and take it with you. Check their store locator to find one near you.
If you want to spend a little more though, they're also offering a shawl for $3, when you spend at least $5 on other products in store. It's supposed to be worth $20. It's also available in red, I think I'd prefer the red one.
The last freebie they did was the free calendar. Quite a few people on various forums managed to receive it.
If you manage claim this free stuff, it would be great to hear from you in the comments below. Thanks!
Thanks for the image John_Baird.