Canadian Freebies: Smirnoff Vodka Stuff!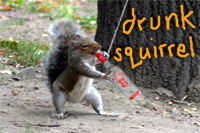 Smirnoff Vodka are offering freebies!
When you are filling out the form on the Smirnoff page, make sure you tick the box that states "Yes, I would like to receive great things through the post from Smirnoff Vodka." I've just filled this in, so I have no idea what we are going to get! There's probably no chance that it will be free vodka (!) but here's hoping!
I have to say that Smirnoff vodka is my favorite. However, vodka doesn't really have a taste at all, so I'm not sure why I have preference for one over another!
Vodka is so versatile too, there's so much you can do with it!! Some of my faves:
Sex on the beach
How good is this!? Vodka, peach schnapps, cranberry and orange juice. SOooooo good with some crushed ice.
Screwdriver
Vodka and pure orange juice. Nuff said. As this was Mulder's fave tipple in the x-files, it's also one of mine. I'd love to join David Duchovny for a screwdriver!
Unnamed
I don't know if this has a name, but I really like vodka and cranberry juice, on a little ice.
Thanks robad0b!