Canadian Freebies: Natures Path Bar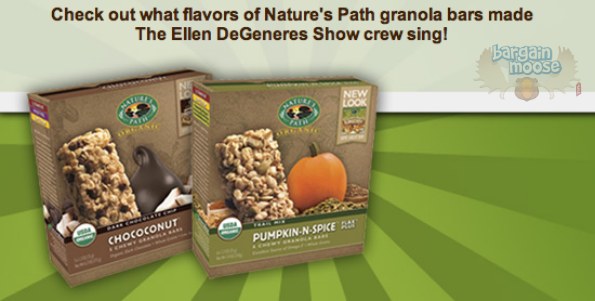 This is a sweet and yummy deal from the Ellen DeGeneres Show: vote for your favourite Natures Path Bar and get a box free for yourself!
I voted for Chococonut as I love the combo of chocolate and coconut together! Your choices are:
Chococonut
Pumpkin-n-Spice
Lotta Apricotta
Berry Strawberry
Want to try a wholesome granola bar? How about one that has a fun flavor, such as Chococonut™ or Pumpkin-N-Spice™? Yes? Then we've got you covered! We've teamed up with Nature's Path to give Ellen fans a chance to win a Nature's Path prize pack and a $500 Whole Foods gift card! We'll also send you free box of samples. For a chance to win, all you have to do is take our poll and tell us what flavor makes your mouth sing!
It signs you up to the Ellen mailing list but you can unsubscribe at anytime. I can't wait for my box of samples!