Canadian Freebies: Free Samples From Associated Bags!
I normally don't blog about non-Canadian sites, only when the offer is particularly good and they do shipping to Canada! Associated Bags is a US based site which sells various packaging materials. They offer a range of free samples of their products, with free shipping.
How to claim your free items: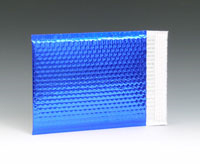 Click on an item you are interested in on their website.

If the item is eligible, you'll see a grey "send free sample" button in the product page. Click this.

Add any other free products you want, using the same process.

Go to your shopping cart.

Complete the checkout process as normal (no credit card needed).
Not every product has the free sample option, but most of the envelopes and mailers do. This freebie is confirmed as having been received by freebie-hunters in Canada! I think you can only order 5 free samples as a new customer. Shipping is free too. Apparently, the freebies arrive within 2 or 3 days, so they are really fast too.

The image to the top right is the 8" x 11" Reflectix® Metallic Bubble-Lined Mailer in Blue. You can order it for free. Pretty cool freebie! 
Just beware – they send you out a catalogue too, so you might end up spending some money if you like the quality of the freebies! If you do eventually make orders from associated bags, you will be able to request and order more free samples than new customers. This kind of freebie is great for those of you who are ebay sellers, and need a lot of new packaging material.