Canadian Freebies: Free Nestle Carnation Holiday Recipe Guide
Oh man … does it feel weird to be writing about Christmas when we're still sitting in September but you just know it's gonna sneak up on us in no time. I just saw that the Free Nestle Carnation Holiday Recipe Guide is now available for download or to be snail mailed, and it took me down memory lane! I'm betting that you'll recognize more than a few of these recipes from your childhood.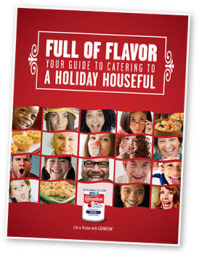 I'm actually looking forward to baking some of these dishes again as an adult –but I loved a lot of these recipes, even though they were often charred beyond recognition when they came out of my mom's kitchen! You can download the entire guide, or you can choose to print only a few recipes.
Tips:
You'll need to create an account as a new user whether you want to download your version of the Holiday Recipe Guide or you'd like to have it mailed out to you, but that only takes a few seconds.
If you click on the "mail it to me" button, you'll need to enter your mailing address. The dropdown will list all USA states first, Canadian provinces at the bottom. If you enter your 6-digit postal code, you'll get an error message. Simply substitute "00000" in the zip code field, and it should be OK.