Canadian Freebies: Free Cetaphil Skin Care Product!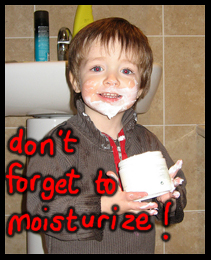 Here's another great Canadian freebie for you!! Cetaphil.ca are giving away a free 4mL sample of their Gentle Skin Cleanser and Moisturizing Lotion.
Click here to grab yourself a free sample of Cetaphil skin care product
I've never used this product, but a friend says that it it's great because it is not fragranced, it's not oily, and it's very good for sensitive skin.
I think I'll give this a try! I don't have a very healthy skin care regime at all. If I get a spot, I have to squeeze it until it bursts, usually splattering the bathroom mirror with some bodily fluids. Exfoliating for me consists of rubbing my face on a tree, at the local park. I do moisturize, but I tend to use normal household products which are a lot cheaper than Dior or Lancome. For example, mix a little mayonnaise with a pinch of paprika*, and it does wonders for your complexion. I also brush my teeth with coal.
Thanks Jason Jarvis.
* Don't take my advice. Please. Please don't.