Canadian Freebies: Free 2013 Calendar Round-Up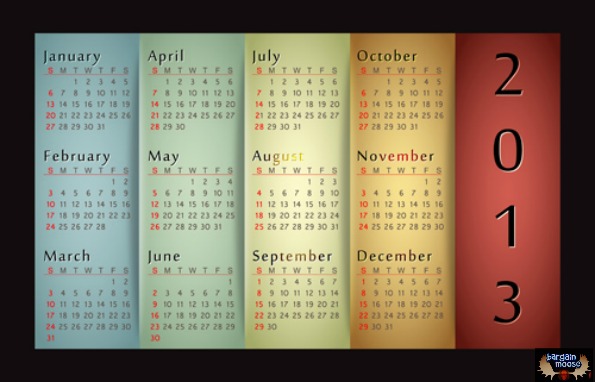 Now that it's officially 2013, it's time to throw away or recycle that 2012 calendar. You don't have to go out and purchase a new one -- get these free 2013 calendars instead!
Option #1: Chapman's Kid's Club
Your children will love this free calendar from Chapman's. It's always a great idea to have your child's activities and events posted on an easy-to-see calendar. That way, they know what's coming up and can be excited each morning when they look at the calendar and see what's planned for that day.
Option #2: Telus 2013 Calendar
Telus is offering a free 2013 calendar to all Canadian residents and it's available in English and French. You don't have to be subscribed to Telus. All you need to do is answer a few short questions, and your calendar will be on it's way!
Option #3: "My Milk" 2013 Calendar
Dairy Goodness has a "My Milk" 2013 calendar available for free. Unfortunately it is no longer available for Ontario, New Brunswick, Nova Scotia, Prince Edward Island, Newfoundland and Labrador residents, due to an overwhelming response. However if you live in Saskatchewan (that's me!), Alberta, British Columbia or Manitoba, you can still request your free calendar.
Option #4: Ontario Outdoor Adventures 2013 Calendar
If you're more of an outdoorsy person and want some scenic and beautiful pictures of Ontario on your calendar, then this one is perfect for you! You can either download and print, or request a physical copy to be mailed to you. Along with this calendar, you will also find the Ontario Winter Guide 2013, the Ontario Snowmobiling Tour Planner 2013, and the Ontario Snowmobiling Trail Guide 2013. You may request one copy of each or simply view them online.
I hope you enjoy these free 2013 calendars and can put them to good use. Wishing you and your family all the best in 2013!